Full disclosure – this article requires a larger time commitment than the average blog post.
We wanted to truly give you an "ultimate guide" that walks you through everything you need to know about Customer Experience in a practical, actionable way. It's meant to be a resource you can come back to over time and includes exercises and templates you can complete with your team to get the CX ball rolling for your business.
This note isn't meant to scare you off, but we wanted to give you fair warning in case you want to refresh your coffee or pour yourself a glass of wine before settling in. Enjoy!
In this article, we'll cover:
What is Customer Experience?
Why does Customer Experience Matter?
What great Customer Experience looks like: 5 Kickass Examples
Key Customer Experience terms you should know
Experience vs. Service: A brief history of CX
How to improve your Customer Experience

Develop your CX Strategy
Build a culture of Customer Experience
Understand your customer
Continuously improve your Customer Experience
Build, test, iterate, repeat

Final tips for improving Customer Experience
What is Customer Experience?
So, what does Customer Experience actually mean?
Customer Experience (CX) is a customer's overall perception of and feelings about your company based on the culmination of every interaction they've had with you in their lifetime. It includes direct interactions (e.g. buying a product or calling your help desk), indirect interactions (e.g. seeing an ad or post from a friend mentioning you on social media), and other factors within and outside of your control that impact their experience (e.g. bad weather on a vacation or a slow website).
Experience is a subjective, emotional assessment and results in descriptive judgments like 'it was great' or 'it was terrible,' not customer satisfaction metrics (e.g. how do you rate the service provided by company x? – 4/5). These assessments may sometimes seem irrational or illogical, but they often make sense to that customer based on their unique context and needs.
As an organization, you can influence a customer's experience with your business by setting the stage for them to have a positive experience based on their preferences and needs. But ultimately, it is defined by each of your customers and how they how they feel about your products, services, communication, etc.
It's important to note that experience is tied to how well a customer's experience meets their expectations and desired outcomes for a specific period of time. These expectations and desired outcomes will shift and change, so what may be a great experience for a customer today may not always be a great experience for that same customer tomorrow.
Meeting a customer's needs is a basic requirement of doing business – it's expected. Great customer experience goes beyond simply meeting expectations. It exceeds those expectations and truly delights your customers. You may get a 5/5 for customer satisfaction because you delivered what a customer expected, but did you delight them? Did you trigger a memorable emotional response by making them feel valued, understood, and appreciated? That's when you create meaningful, lasting connections with your customers that will improve retention and strengthen customer loyalty.
Why Does Customer Experience Matter?
So why would you focus on CX when you might still achieve decent satisfaction numbers by simply meeting expectations?
Customer Experience is a key buying criteria
Today's customers have more choices, access to information, and channels for communication with brands and each other than ever before. CX is becoming the key brand differentiator for businesses and a key decision criterion in customer choice, outperforming brand and price combined. A Gartner study found that CX drives over two-thirds of customer loyalty, while other research has shown that up to 96% of customers say customer service is important in their choice of loyalty to a brand.
In fact, 65% of U.S. customers would go so far as to say that a positive experience with a brand is more influential than great advertising and 42% of consumers worldwide are willing to pay more for a friendly, welcoming experience.
CX is the new battlefield and if you don't start to focus on it, your competitors will leave you in the dust. 81% of companies already view customer experience as a competitive differentiator. Some studies are showing that as many as 9 out of 10 businesses are competing mainly on customer experience to stand out from the crowd. More conservative reports show that two-thirds of companies are competing primarily on CX. Either way, it is clear that more organizations than ever before are taking CX seriously to help them stand out from the crowd and win loyal customers over.
Customers aren't afraid to leave
The internet and social media are making customer experiences more transparent and have given customers direct access to unfiltered information from other customers about different companies and the quality of their products and services. The margin for error with customer experience is becoming thinner and thinner – and the stakes are high. Customers are becoming more and more likely to abandon brands they love over bad experiences, with some studies showing that feeling undervalued or underappreciated it the top reason customers switch brands.
Previously, many brands had the opportunity to earn back a customer's trust after a bad experience, but that may no longer be the case. In a survey of 15,000 customers, PwC found that 1 in 3 customers will leave after a single bad experience and 92% will leave after 2 or 3 bad interactions. The ripple effects of each individual experience with your brand can also be far-reaching. A Deloitte study found that customers tell an average of nine people about a positive experience with a brand, but they tell 16 people about a negative experience.
Further complicating things is the fact that most customers won't even tell you they are unhappy. Only 1 in 26 unhappy customers actually submit complaints – the rest just leave. So, you may be unaware of many unhappy customers telling others over and over again about their negative experiences with you.
A loyal customer is a valuable customer
Remember, great experiences make people feel special and when people feel good about a brand and the way it treats them, they don't hesitate to tell others about it. Happy customers are 5 times more likely to buy from you again and 4 times more likely to refer a friend to your company. Word of mouth referrals are considered a top source of information customers rely on when making a purchasing decision, with customer references / testimonials coming in at a close second.
Keeping your customers happy will help retain them but providing them with an incredible experience will create a deeper, personal relationship. Superior experience earns superior loyalty, turning customers into promoters with a lifetime value 6 to 14 times higher than that of detractors.
In addition to increasing a customers' lifetime value, a great CX can also reduce your customer acquisition and support costs. While creating great CX isn't free, customer retention and word-of-mouth referrals are significantly less expensive than acquiring new customers. In fact, acquiring a new customer is anywhere from five to 25 times more expensive than retaining an existing one.
Customer Experience is closely tied to Employee Experience
The experience of your employees has a powerful impact on customer experience. If your employees aren't having a great experience, how do you expect them to go above and beyond to create an incredible experience for your customers?
65% of CX leaders consider it "very important" or "critical" to improve the employee experience while they are improving customer experience. Prioritizing and delighting your customers and empowering your employees to provide excellent experiences to them will drive engagement, job satisfaction, and make their jobs feel easier.
Companies that excel at customer experience have 1.5 times more engaged employees than less customer-focused companies. A great employee experience will help create engaged employees who are happier, more productive, and provide better service to your customers.
What great Customer Experience looks like: 5 Kickass Examples
The Big Guys
Disney – an immersive customer experience so holistic, it's difficult to tell where the experience begins and ends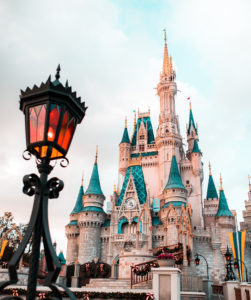 Disney isn't considered the "Happiest Place on Earth" for $h*its and giggles. Its personalized and magical approach to Customer Experience is a large contributing factor to its success, brand recognition, and customer loyalty. Though millions of people interact with Disney Parks annually, they still manage to provide an immersive and personalized experience to everyone. From the moment you enter Disney's magical kingdom, you have personal experiences curated through a meticulous attention to detail and care for creating an incredible experience for every guest.
Even something as straightforward as garbage cans at Disney has been methodically thought out to optimize CX. At Disney Parks, garbage cans are no more than 30 feet away from each other for the convenience of guests and to increase the likelihood of use. They are also designed with lots of color, and personality, to make sure they match the overall brand. But this is an unassuming area of Disney's passion for CX – to ensure their parks do not become "the dirtiest place on earth" sensors are being added to garbage cans to inform staff when they need to be emptied. In fact, a secret, underground network of pipes has been built for high-use area garbage cans to empty them automatically at 20-minute increments, so customers always see the Park in pristine conditions.
At first glance, it seems rather silly to obsess about garbage so much….but, when you think about it, Disney's devotion to garbage showcases their core values of Customer Experience, and their desire to "throw out" anything that will potentially hurt their brand and CX.
Ritz Carlton Group – empowering and encouraging employees to go the extra mile for guests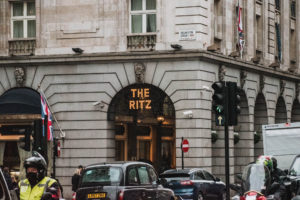 The Ritz Carlton is a well-known chain of luxury hotels around the world, specializing in providing a high-end experience to travellers. This hotel chain is well known for its aura of glamour, opulence, and the refined experience it provides for its guests… resulting in it being one of the highest-ranked hotels for guest satisfaction. However, what most people don't recognize about Ritz Carlton is that their "secret sauce" is actually a focus on Customer Experience across all properties and levels of staff. In fact, the Ritz Carlton employs a code of conduct they refer to as the "Gold Standard", that outlines the core values and philosophy by which they operate. These standards hold Customer Experience in the highest regard, using guest satisfaction as the guiding light for all Ritz Carlton staff at each of their properties.
Having a unified philosophy and vision for all employees removes any confusion of what they should be focusing on. Employees are also empowered far beyond what other competitors in this space promote.  A key service value of the "Gold Standard" is to empower employees to create unique, memorable, and personal experiences for guests. The Ritz Carlton lives this value by trusting its employees with decision making authority and allocating every employee up to $2000 per guest to spend on resolving any issue or delighting customers in the moments that matter. This allows every staff member, from housekeeping to management, to create great experiences without having to ask for permission. Employees are trusted to act in the best interest of the customer and keep their experience top of mind.
Amazon – using customer-centricity and personalization to drive innovation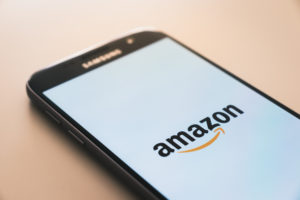 Amazon's personalization efforts aren't new – its product curation and recommendation algorithm has made headlines and inspired case studies since 2013. Their approach to personalization, when executed correctly, uses customer needs as the central motivation, allowing them to deliver a uniquely curated experience for every customer. In addition to boosting CX, this level of personalization often leads to "impulse" purchases and additional purchases on their site.
If you're in the business of curating items or recommendations for your customers, remember, you're doing a great job if you can help your customers discover new things they like, whether it be a book, gadget, or a cheap and cheerful pick-me-up. These discoveries are uniquely thrilling to the customer, not only alleviating the need for them to do research and price comparisons but also making them feel like you truly understand their interests and preferences.
One of the fundamental purposes of any personalization effort is to let your customers know that you're paying attention to them, but it can be difficult to strike a balance between "here's something you might like" and "we're watching your every move." Amazon accomplishes this by completing careful research, planning, and testing with real customers before any new customization initiatives are launched.
Amazon's success comes from their commitment to putting themselves in the shoes of the customer to create an efficient, personalized and curated experience that is so seamless that it's difficult for any of their competitors to compete.
The Not-So-Big Guys
Carter Mario Law Firm – the power of individual relationship building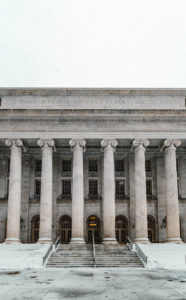 Carter Mario Law Firm, specializing in personal injury, has six locations throughout Connecticut Massachusetts. Carter Mario, CEO and president, is passionate about service and chooses to make client experience the law firm's strongest competitive advantage.
For instance, the front reception is always attended, and their team is available 24/7 so customers never get an automated response or answering machine. Upon receiving an inquiry, the firm guarantees to return a client's call the same day or lunch is on Carter Mario himself.
Mario also instituted a procedure for capturing personalized information about each client that could be used by everyone in the firm. The firm was able to customize its customer management software with a "Secret Service" tab. This tab contains vital Customer Intelligence, such as preferred refreshment, eye color, birth date, spouse and other family members' names, children's ages, hobbies, past vacations, and even pets' names.
To effectively translate this wealth of client intel, the team conducts a "morning huddle" at 8:45 a.m. every day to communicate the priorities of the day and share "Customer Intelligence" on any clients who are visiting the office that day. This allows the entire firm to be prepared to welcome each client and provide them with an exceptional, personalized experience during every visit.
Zazou Hair Salon & Academy – anticipating customer needs before they know they ask for it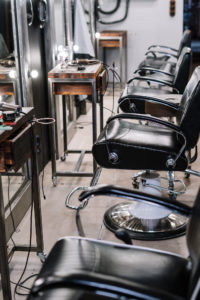 Zazou is a Hair Salon in North Vancouver that offers the full spectrum of cuts, colour, styling and luxury services and products. One glace at their website and it is apparent that Customer Experience is at the core of their operating model – "We provide our guests with a positively unique, memorable experience that drives guest excitement and a sense of belonging in an overall welcoming environment that has clients raving about us!"  Their team of 40 stylists, apprentices, and concierge service providers consistently step up to not only meet but exceed expectations.  Hot scented towels and freshly steamed tea on damp rainy days or cool lemongrass wipes and refreshing iced drinks on sticky summer afternoons.  The little touches are the most memorable ones.
So, when COVID challenged everything about their operating style, and forced employees to be furloughed, the salon's owner took pause to consider how clients would be "Zazouified" when they were able to reopen. His major objective was to ensure that the client experience was not defined by COVID.  Absolutely, the new safety protocols were required, but what measures could be taken to preserve the salon's reputation of a sanctuary that celebrated Customer Experience?
The first step was to record a video with key staff members. The clip started with a heartfelt message from the owner and a commitment to current and future clients.  In a succinct couple of minutes, staff members summarized all the measures that were being taken by the salon.  This video – Our New Normal – effectively communicated and reassured but, more importantly, closed the subject off by packaging up all the FAQs and put them in an archive.
Two days before an appointment a text message is sent to each guest with the video link. The day before an appointment a form is sent out to collect answers to relevant health questions, confirm contact information, and re-socialise the procedure for entering the salon.  When the guest arrived for their appointment there was no need to review, question, or debrief and a Zazou experience could immediately unfold!
Key Customer Experience Terms to Know
Terms and concepts used to describe customer interactions and relationships can be confusing. They are sometimes used interchangeably, but they don't all mean the same thing. Here's a list of some key Customer Experience Terms you should know.
Customer Experience – the sum of every interaction a customer has with your company and is measured by how a customer feels about a company. It is the psychological and emotional connection customers have with your brand and is the culmination of every touchpoint they have with your employees, products, and services.
Customer Service – the direct, transactional support a company gives its customers. It typically focuses on solving problems or answering specific customer questions. The primary goal of Customer Service is maintaining and improving customer satisfaction.
Customer Care – how well a business treats its customers when they interact with the brand. It is often seen as being one level deeper than customer service – it goes beyond simply solving a problem and focuses more on understanding a customer's needs to find the best solution for them (not just any solution that will work). Customer care helps build a more emotional connection than a simple customer service interaction.
User Experience – a subset of CX that focuses on making your products and services intuitive, user-friendly, and enjoyable to use. It is typically done at the product level and is most often used for digital products and services.
Journey Mapping – a way to visualize the customer experience and how customers interact with your business. Your goal in mapping that journey is to remove the obstacles and make the process efficient and intuitive.
Customer Journey – an end to end process of a particular customer type outlining how they travel through each of their interactions with your company; from the onset of their need / goal right through to the fulfillment of that desire and their ongoing relationship with you.
Customer Segments are groupings of like people with similar direct needs or demographic information. Segments usually focus on groups of prospective customers in a marketplace and are used to develop marketing materials and product targeting. Segments are built using quantitative market research and purchasing trends, but no direct customer interviews or consultation.
Customer Persona – a representation of your ideal customer types based on market research and real data about your existing customers. Personas typically include customer demographics, behaviours, motivations, and goals. The important distinction between a persona and a segment is that personas tap into the emotions and behaviours of customers – the warm fuzzy stuff. Personas provide a much richer, qualitative picture of your customers that gives you a sense of their personality, values, and how they will react in different situations.
Empathy Mapping – an exercise that helps companies better understand their customers' motivations and why they care about accomplishing a goal. It helps document what customers think, feel, hear, do, say, and see during a particular journey.
Voice of the Customer – describes your customer's feedback about their experiences with and expectations for your products or services. It focuses on customer needs, expectations, understandings, and product improvement.
Moment that Matters – an interaction or experience that evokes a strong emotional response and has a lasting impact on how you feel about a person or brand (positive or negative).
Experience vs. Service: A brief history of CX
How has Customer Experience Evolved Over Time?
Companies have known for decades that it is important to understand what their customers want. If you aren't offering a product or service that people need or want (or can't convince them that they do), people won't buy what you're selling.
However, the approaches and thinking around customer satisfaction and experience have shifted dramatically over time as research and technology allowed marketers and sales teams to tap into the minds of their customers.
Origins: Market Research and Customer Satisfaction
Anyone who has watched the AMC series Mad Men knows that advertising and marketing agencies have been using focus groups, market research, and customer satisfaction measures to market products and services for decades. But the origins of market research began in the 1920s with psychologists like Dan Starch and George Gallup applying scientific principles to understand consumer preferences and habits.
Starch was one of the first researchers to develop a method of measuring the effectiveness of advertisements, allowing businesses to calculate the returns of their investment in advertising efforts.
Gallup's surveys and polling techniques created an unprecedented window into the minds of Americans, shedding light on their opinions, preferences, and areas of concern. His work revolutionized the idea of polling and using data to understand customers and predict buying behaviours. His agency, Gallup, is still considered to be a leading source of objective, global analytics and advisory services.
Market research picked up in the post-WWII consumerism boom and by the 1970s a demand for market research in marketing and advertising had spread across almost every industry. In the 70s some agencies started to use customer satisfaction as an indicator of performance. Maritz was an early adopter of this approach and started conducting large-scale customer satisfaction studies (and still does today as MaritzCX). Around this time, JD Power and Associates was also gaining national prominence for the quality of its survey data and the work it was doing on what is now known as the voice of the customer in the auto industry.
Customer Value and Improving Research
A renewed focus on "quality" and academic work in this area in the early 1990s initiated a major shift from traditional market research into customer satisfaction-focused work. More and more firms were getting involved in the customer satisfaction arena and researchers began to shift the conversation from customer satisfaction to customer value. Rather than looking at how satisfied a customer was with a product, they started to look at a broader range of factors impacting a customer's assessment of "value" like quality, pricing, and customer service / support.
Technological Advancements
The spread of the internet in the mid-90s also brought about series of significant technological changes that accelerated the pace of customer experience innovation. Information for surveys and polls that previously required call centers and mountains of mailed responses could now be collected digitally. Although pricey, reporting websites were built to provide online dashboards and reports. Several tech startups launched in the early 2000s to build customer feedback and relationship management systems to track and aggregate customer data. As demand grew, custom programs were repurposed into out of the box solutions that were more affordable for a range of companies.
Net Promoter Scores and Customer Experience Professionals
In 2003, Frederick Reichheld, Bain and Satmetrix developed an elegant solution to the range of complex weighting scales and measurement systems built into these customer experience programs – the Net Promoter Score. The Net Promoter Score created a simple, easy to understand system of measuring customer loyalty and the likelihood that a customer would purchase again or provide a referral. This research created a clear, demonstrable link between a customer's experience and outcomes for the business.
By 2011, the field of CX gained further credibility with the creation of the Customer Experience Professionals Association as an intellectual home for the many disciplines that contribute to and support the field of CX.
The All-Encompassing Customer Experience
Today, awareness of the concept and importance of Customer Experience is more widespread. Rather than being the purview of marketing and sales functions, CX has been expanded into its own area of expertise. Companies are hiring Chief Experience Officers and working harder than ever before to truly understand and appreciate what matters most to their customers.
There has also been a shift in CX thinking from a focus on improving individual channels and touchpoints to the cumulative experience of the customer. You could have the most kick-ass website or an incredibly intuitive smartphone app and still be providing a bad overall experience for your customers because your in-person experience sucks or call centre wait times are atrocious. Customers shouldn't have a dramatically different experience on every engagement channel – a truly balanced customer experience provides a great experience no matter how someone connects with you.
You also can't afford to have CX gaps. Companies used to think that getting a 9/10 score across the board would translate into an overall 9/10 experience for their customers, but that isn't the case. Less-than-perfect interactions don't just add up over time – they actually have a compounding effect on a customer's overall experience and perception of your company.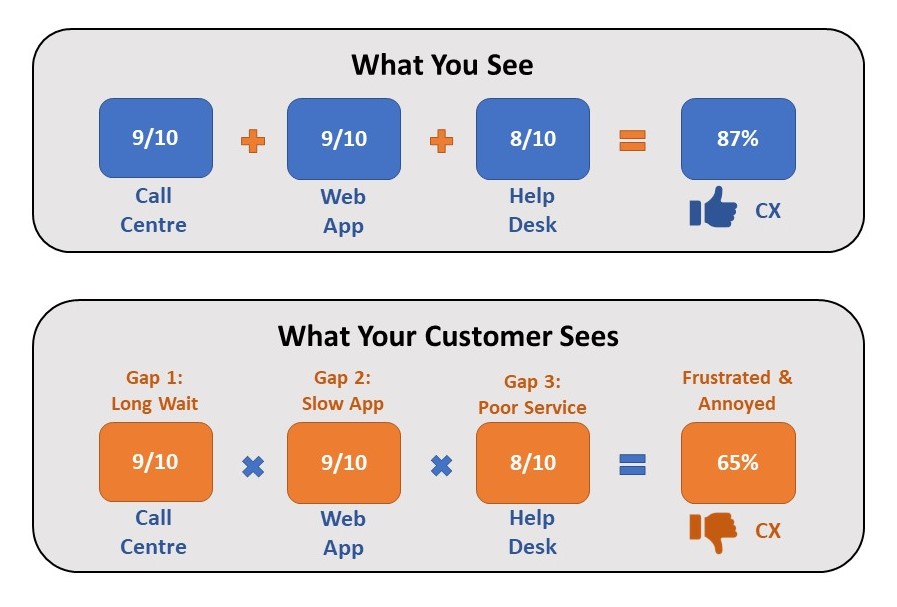 Let's look at a pretty standard satisfaction rating as an example – the five-star rating scale for Uber drivers. Uber has created a "5-star norm" where it is rare to see a driver that isn't pretty damn close to a 5/5. Whether this is because the results are public, the fact that passengers want a good rating in return, bad drivers being removed from the system, or Canadians being "too nice" doesn't really matter. What does matter is what happens when riders get in a car with a driver that has a 4.5/5. Objectively, 90% is a pretty good rating. But to a customer expecting 100%, it feels like a huge gap.
How to Improve your Customer Experience
1. Develop Your CX Strategy
Setting Your Customer Experience Vision
To develop a great CX strategy, you must first start with the shared aspiration that will guide your strategic decisions and execution. This vision should speak to the overarching goal or purpose of your CX efforts and can be used to develop thematic objectives that will help you frame up your customer experience initiatives.
For example, two competing technology companies may have completely different visions for their customer experience. Company A may focus on creating "the easiest to use and most accessible products and service", while Company B may want to provide "highly customizable products and services to serve complex needs."
Your vision should be simple and clear so it can easily be repeated and understood throughout your organization. It is also very important that your CX vision be developed with the support and involvement of your executive leadership team. If you want Customer Experience Management to play a key role in driving your organization's decisions going forward, it's critical that your leadership team is on board and bought into this vision.
Customer Promise
As you develop your Customer Experience Strategy, it's also important for you to consider how you want your customers to feel about your business. Your Customer Promise sets the tone for what customers should expect and what your company stands for.
Your customer promise should be clear and specific. Many businesses include a guarantee or commitment in their promise. For example: right the first time or it's free; delivery in 30 minutes or less; or, money back guarantee if you don't love the product.
When building your own customer promise, start with the emotional response / feelings you want to create. What is the emotional response you want to trigger in your customers when they:
First hear about your company?
Interact with your employees?
Finish each interaction with your company?
Are talking to their friends and family about their experience with your business?
For example, do you want people to feel inspired and motivated (e.g. Nike, Goodlife Fitness)? Or do you want them to feel empathetic and generous (e.g. United Way, Ronald McDonald House)? Or perhaps you want them to feel stylish and savvy (e.g. Winners, Wayfair)?
Once you pinpoint how you want people to feel when they engage with you, it will be much easier to create your own customer promise and design a customer experience to make it happen.
2. Build a Culture of Customer Experience
What gets measured gets done
CX metrics can be incredibly complex and time consuming. The countless software solutions available and sheer volume of data that is actively and passively tracked on an ongoing basis can be downright overwhelming. While it can be hard to figure out where to start, if you don't track something, how will you know if your Customer Experience is getting any better? And how will you hold yourself and your team accountable?
We recommend keeping it simple, especially in the early days of your CX efforts. Finding a method of measurement that makes sense to you and your team is key. You could have the slickest, most accurate CX tracking setup in the world, but if your employees don't understand it or think it is a waste of time, they won't use it consistently or effectively. And garbage in, means garbage out when it comes to data.
Rather than trying to measure everything at the same time, choose a few simple metrics that are easy to explain and even easier to track to get buy in and compliance from your team. If your team can understand what you are tracking and why it's important, they'll be more likely to adhere to processes and collect this data from your customers.
Ideally, your metrics should also be tied to the CX factors that are most important to your customers and what they are trying to achieve. For example, a reduction in call center wait times isn't a very relevant measure of success if the vast majority of your customers are frustrated with the lagginess of your online chat function. Choosing the right measures for your audience and their desired outcomes will help ensure you are able to accurately measure your CX performance.
To measure the progress of specific CX initiatives and solutions, find the most effective way to track whether they are having the desired effect at specific moments in your customer journey.
The timing of data and feedback collection, for instance, can help narrow down what is causing a particularly positive or negative response from your customers. For example, if you are trying to create a better customer support ticket process, start to ask customers for feedback about their experience before and after those touchpoints to see if the pain points improve over time.
It's also important to consider the channels through which you gather feedback and data when creating a CX measurement and monitoring plan. For example, if you are trying to collect feedback on your new iPhone app, it might seem logical to solicit feedback through the app itself. However, if most of your customers are frustrated with the app and can barely use it, it might be more appropriate to collect their feedback another way.
Using the right customer metric, at the most appropriate time, through a customer's preferred channel will help you improve the feedback process for your customers and uncover relevant information to measure your success.
Help your Team Understand the Value of CX
Customer experience does not improve until it becomes a top priority the organization and processes, systems, and structure are changed to reflect that. Like any transformational change, customer experience work requires a great deal of education, support, and reinforcement to become embedded within a company's culture.
The first step is helping your team understand the value that creating a great customer experience will have for your customers, employees, and business. While it may be obvious how a great customer experience will improve the lives of your customers, employees will be worried about "what's in it for them," especially if CX initiatives appear to add to their workload.
Luckily, there's a growing body of research demonstrating that CX initiatives significantly reduce the effort required to retain customers. Having happier, more loyal customers also creates fewer headaches for your team – working with unhappy customers or "detractors" takes a toll on employees and increases service costs over time.
It's also important to note that you'll experience a high level of resistance if your CX goals are not aligned with your internal values and cultural norms. What you do internally for your team needs to also reflect what you are expecting them to do for your customers. For example, if you say you value family and offer free childcare on site to give your customers flexibility, you'd better have good parental leave and childcare options for your employees as well. Significant gaps between your customer and employee experience can create skepticism and disappointment among your employees and undermine the success and sustainability of your CX efforts.
Empower your Team
Employees who feel supported and empowered to "do the right thing" will go above and beyond for their customers, serve as strong ambassadors for your organization, and contribute innovative solutions to customer experience challenges.
Start by understanding your employees' basic needs – what do they need to do their job well and deliver a great experience? Give that to them. Whether that be a better headset or internet connection to improve call quality, more experience management training, or an increase to their discretionary spend limit, giving your employees the tools they need to deliver an excellent experience will not only create happier, more engaged employees, but also drive results.
You can further empower your team by giving them access to the information and feedback they need to succeed. Instead of "gatekeeping" negative feedback and experiences, share them broadly with your team as opportunities for improvement and learning. Sharing information related to specific customers will also help your employees feel trusted, valued, and prepared for every conversation they have with a customer.
You should also provide your management team with training and support to help them become empowering leaders. Empowering leaders will help build an environment where your employees feel comfortable to take ownership of their work and bring forward their ideas for innovation and improvement without fear of judgment. Empowering leaders tend to delegate authority to their employees more frequently and encourage autonomy on their teams. They are also more collaborative and regularly ask their team members for input on important pieces of work.
Empowering your team builds trust, capability, and confidence, leaving your employees feeling like they have the tools and skills required to improve a customer's experience.
Incorporate CX Metrics into Performance Management
Including customer experience metrics and objectives into the performance management process for all levels of your organization is a great way to emphasize and reinforce the importance of CX to your business. It's one thing to say you care about improving customer experience, but it's far more powerful if you commit to making progress and hold your entire team accountable to those goals.
Incorporating CX measures into performance management for all employees formalizes individual expectations and allows your managers to work with each of their team members to set their personal development and growth objectives around the goal of creating an exceptional experience. It formalizes ongoing CX performance conversations and helps you translate the company's CX goals into specific, bite-sized actions they can take to improve.
It's important to note that you should also be rewarding good CX behaviours with your team on an ongoing basis. Recognizing and celebrating your employees for doing the right things to improve the experience of their customers will reinforce these behaviours, boost employee engagement, and, ideally, motivate other employees to do the same.
3. Understand your Customer
Data-Driven Customer Personas
Creating a great experience is rooted in a deep understanding of your customers and an ability to empathize, understand, and anticipate their needs. The more individualized our understanding of our customers is, the better. Your team may think you know your customers, but effective CX work needs to be grounded in the collection and interpretation of real customer data.
While every customer has unique needs and sensibilities, it is possible to closely examine groups of similar or like-minded customers to better understand their perspectives and design experiences accordingly.
Before we move on, it's important that we differentiate between two customer groupings that will help you create a great customer experience: customer personas and customer segments. They are not interchangeable – they are distinct and serve different purposes for your business.
Customer Segments are groupings of like people with similar direct needs or demographic information. Segments usually focus on groups of prospective customers and are built using quantitative market research and purchasing trends.
Customer Personas are a representation of your ideal customer types based on market research and real data about your existing customers (ideally collected directly from your customers). Personas typically include customer demographics, needs, motivations, and goals, but the important distinction is that personas tap into the emotions and behaviours of customers – the warm, fuzzy stuff.
Customer Segments and Customer Personas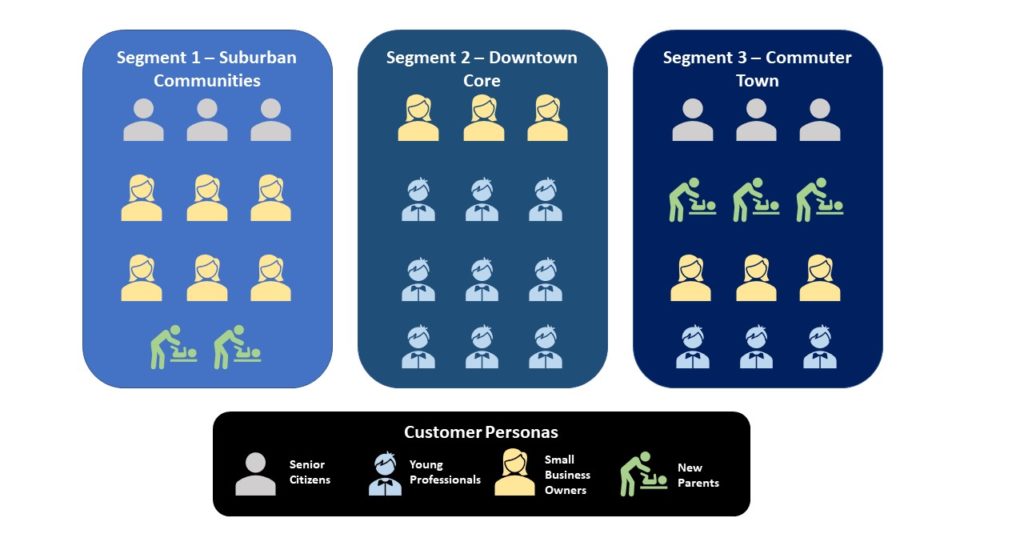 Personas fit within and across Customer Segments – they are a more detailed view of specific customer types that provide a much richer, qualitative picture of your customers. Personas go beyond basic demographic information to give you a sense of that individual's personality, values, and how they will react in different situations. When we analyze, design, and measure customer experience, it should be done from the perspective of a customer persona.
Your customer personas shouldn't be your team's "gut feel" for your customers – they should be developed using real customer data. And before you start worrying that you haven't been collecting customer data, know that you have been. You might have a complex system collecting data and feedback directly from your customers, or you may need to start simpler. But any information you have on your customers can be used as an input into CX work. For example, you might not have sent out surveys asking your customers which channels they prefer, but you should know how many orders you receive through your website vs. the phone. All information is good information and can be used to help you understand your customer.
You may not get it right the first, second, or even third time round – and that's okay! Understanding your customer is also an iterative process. You should make CX decisions based on the data you have available at the time and be ready to updating and refining your personas as you receive new information. As you learn more about your customers you may also end up developing new personas or splitting an existing persona into two personas to better reflect customer needs.
Building Customer Personas
So how do you actually build a persona? The first step is choosing the type of customer you want to understand. Most companies have several main personas that represent the range of customers you currently serve and the customers you are hoping to acquire. Your business context and strategy will drive which customer personas you focus on, but they should be the key customer groups you are trying to target.
Some examples of common personas businesses focus on include the largest / highest value existing customer base, a growing group of potential customers, or customers in a geographic market you are hoping to enter. It's important to develop multiple personas so you can understand and effectively cater to all of your key clients and customer sub-groups.
You can start to build your own customer persona by asking yourself what information and data you already have about your customers. In the early days of customer experience data collection, you might be relying on more manual forms of data collection like:
Direct conversations or interviews with your customers
Observations of your customers and their behaviour (e.g. buying patterns, preferred channels, etc.)
What people are saying about you in reviews and public forums
Customer surveys
As you get more sophisticated in your CX work, you may start to collect data and feedback from your customers using:
Ethnographic research to observe customer behaviours and interactions
Analytics from your various engagement channels (e.g. website, social media, app, etc.)
A/B testing of communications and products / services to understand customer preferences
Regression / causation analysis to understand why your CX initiatives are or are not working
To build a persona, you want to use this data to help you understand the answers to the following questions about a customer type:
What are the basic demographics of this customer?
How would you write a brief biography for this customer? What is their history and how has that shaped who they are today?
What does a day in the life of this customer look like? Who do they interact with and how do they build relationships?
What are their goals and aspirations? What motivates them and drives their decision making?
What do they dislike? What frustrates them?
What are their preferred channels / modes of communication?
Customer Persona Template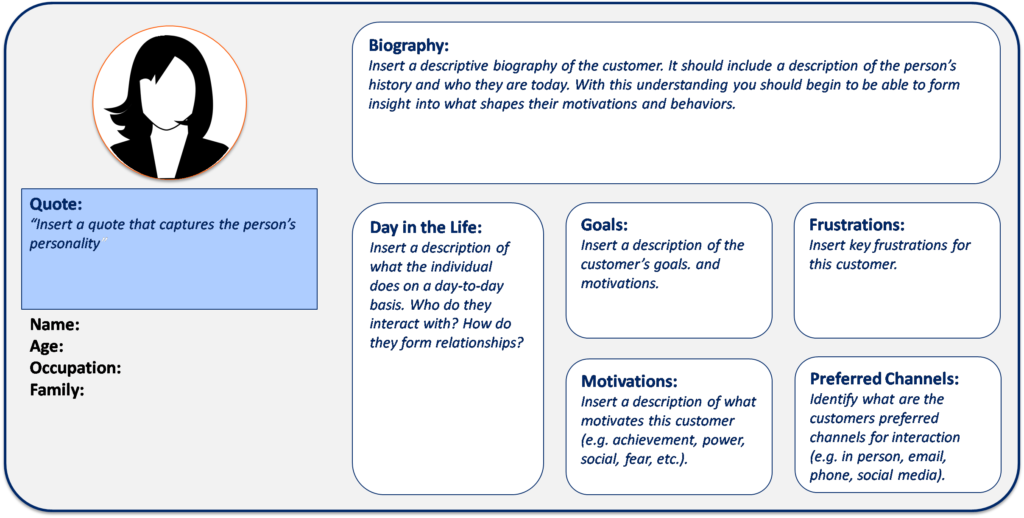 Empathy Mapping
Empathy mapping is used to understand who your customers are – their attitudes, behaviours, and emotional responses. It's not about how they will engage with your company, but who they truly are as people. Their hopes, dreams, and desires. Empathy mapping allows you to understand your customers' motivations more deeply and why they care about accomplishing a particular goal.
An empathy map is an extension of a customer persona. It helps you paint a clearer, more holistic picture of your customer so you can more easily put yourself in their shoes and view the world from their perspective.
It's easy to get somewhat carried away with detail when completing an empathy map, so you should try to keep your observations and descriptions focused on relevant information. Don't limit your mapping to a specific to journey or particular interaction with your business, but take note of how the information you map is relevant to your business. For example, it can be helpful to know that your Customer Persona Annie takes the time to drink a cup of coffee every morning before booting up her computer. It can provide insight into what she values and how she spends her time. How much cream she adds to her cup or that she prefers Colombian roasts, on the other hand, probably isn't very relevant information to capture (unless you're a coffee shop of course).
To create an empathy map, your team should start by choosing a persona and considering the following:
Think and Feel: What does this person want? What are their goals? What matters most to them? What motivates them? How do they feel about themselves and the world around them?
See and Hear: What does this individual observe when interacting with your company? What have they heard? Why do they perceive things this way?
Say and Do: What have we heard this person say? What actions or behaviors have we observed? Are their motivations and desires aligned with their actions?
Pains and Gains: What are this individual's problems or frustrations? Are there any obstacles they need to overcome? What makes them happy or satisfied? How do they measure success?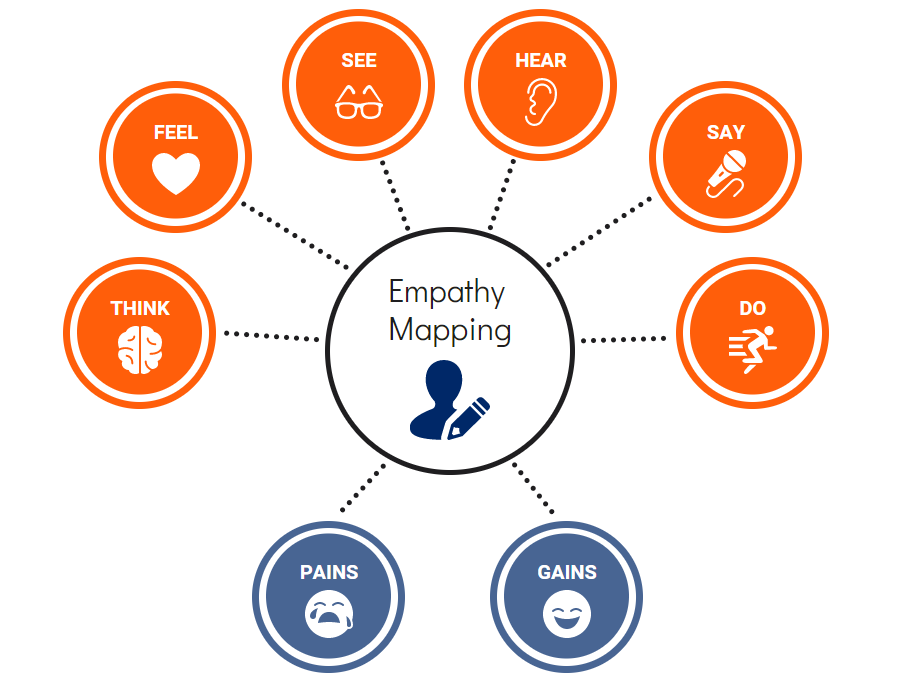 Using customer data and direct engagement of customers to develop your personas and empathy maps will help you validate your assumptions and make sure you're on the right track. It will give you the opportunity to pinpoint their needs and desires and translate them into action more accurately and effectively.
A multi-faceted approach to customer feedback and data collection is also important because customers do not always behave logically. When asking your customer directly what they are looking for, they may say one thing, but looking at their purchase history may show that they behave differently (e.g. a customer who says they hate dealing with sales people who always asks a sales rep for advice when buying products in store). Using data about their buying patterns, habits, and engagement with your business will help you fill in some of the blanks they may leave out when providing you with feedback directly.
While you can't read your customer's mind or ever know exactly how they will respond to a given situation, you can use your customer personas and empathy maps to make educated guesses about how they will react in certain situations and, more importantly, how you will make them feel in those moments. These maps can be used to help your team understand your customer at a deeper level so you can always anchor strategic decisions in reducing pain and adding value for your customers.
4. Continuously Improve Your Customer Experiences
Involve your team in CX design
When it comes to Customer Experience programs and initiatives, involving your employees in the ideation and design process is particularly important, for both the quality of the solution you develop and the engagement of those employees in executing that solution.
It's incredibly valuable to involve a diverse range of employees and stakeholders in any conversation about designing or improving processes, programs, products, and services. Having a range of participants from members of your c-suite to front line staff will help you collect a breadth and depth of perspectives, insights, and implications that a homogenous group wouldn't have been able to develop on their own.
Members of your sales team, support team, and service request team can often provide a wealth of knowledge about what your customers need, desire, and are trying to achieve when they engage with your company. They are acutely aware of customer pain points and the barriers that prevent them from efficiently and effectively solving customer issues. Involving your entire team will bring new insights and perspectives to these conversations, strengthening the quality and accuracy of your personas, empathy maps, and customer journeys.
Bringing your front line employees in at the design and ideation phase will also give them a better and more holistic understanding of your customer – what they need, what they are trying to achieve, and how they feel as they engage with your company. Someone who works in a specialized department may only see one type of customer or one angle of that customer's experience. Creating the most accurate personas and journey maps possible and sharing those broadly will help your team understand the entirety of a customer's experience and gain perspective on how all of the elements of CX relate to and impact one another. Providing your team with additional opportunities for CX training and development will help them hone these skills and set them up to create and execute incredible experiences.
Involving a wide range of team members in CX development will also help build CX capabilities into every level of your organization. Employees will be better prepared to meet and exceed customer expectations and will eventually be able to incorporate CX improvement activities into their day-to-day work planning.
Select the Journey
Customer journeys are the entire end-to-end path of interactions and engagements from the time a customer is completely unaware of a company through becoming aware, investigating it, buying it, using it, and, ideally, repurchasing or becoming an advocate that tells others that they should buy and use it too.
Customer journey maps are not internal pipelines, sales processes, or any other funnel your business might create from a developer's point of view (although they might look similar). These are purely focused on the customer's experience and should be built from their perspective, not yours.
Though customer journey maps can vary, they have a few essential shared components.
Persona: A profile of a client group: demographic and psychographic information. Each customer persona will have a different journey with your company based on their unique context and perceptions. While you can use some aspects of a customer journey across personas, the analysis you do should reflect the unique perspective of each persona.
Touchpoints: Important connections when customers/clients interact with the brand seeking to achieve their desired outcome.
Moments that Matter: Touchpoints that can make or break it for a customer. It is where emotions are the highest and you are most invested in the outcome of the experience going well; e.g. pick up your new car, you own it now – you will drive it off the lot and want to feel nothing but pure joy!
Performance Indicators: A measure how customers are responding at certain touchpoints that can help you evaluate, learn, experiment, and continuously improve your customer experience. These measures usually track the customer's emotional state or satisfaction levels along their path. In the beginning they can be anecdotal or based on "gut feel," but your organization will get more value from data-driven indicators.
Here's a sample journey mapping template to show you what we mean. If you think it looks overly detailed or overwhelming, don't worry! We'll walk you through how to fill it out in the next few sections of this article.
Customer Journey Map Template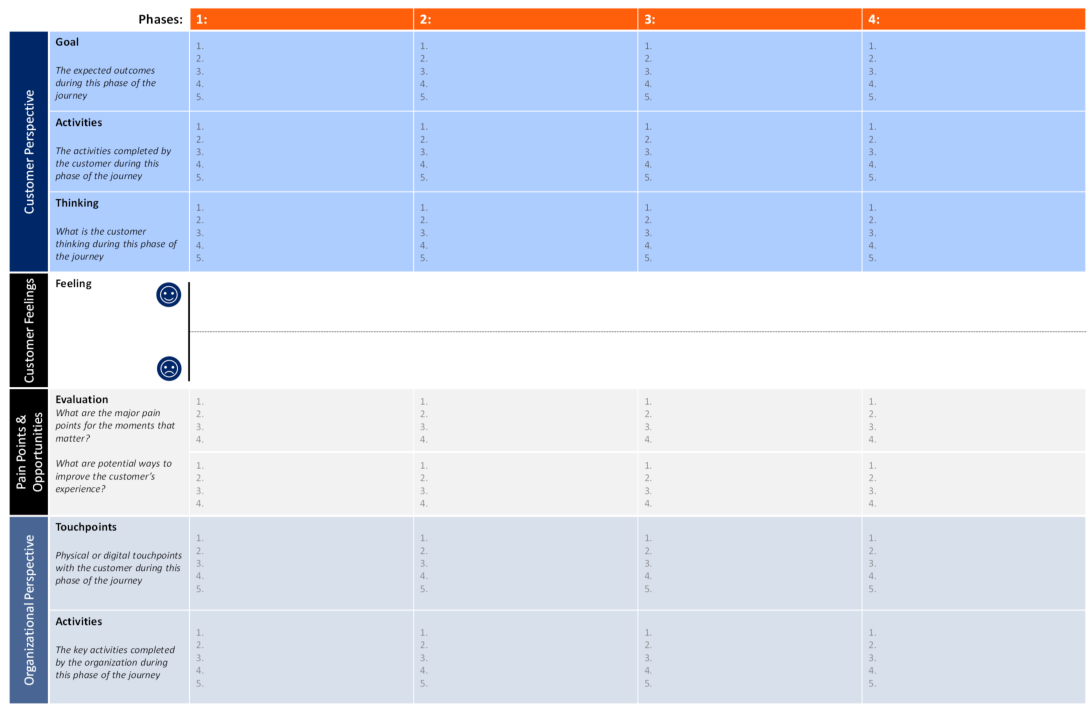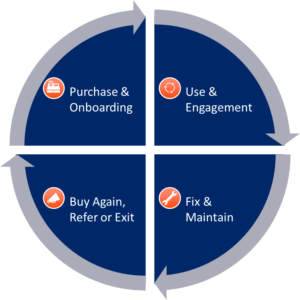 Mapping the entire end-to-end journey of a customer's relationship with your brand all at once can be very overwhelming and time consuming. A more pragmatic approach is breaking the journey down into 4 steps to make things more manageable for you and your team:
Purchase & Onboarding: Focuses on how customers find your business, make the decision to purchase, and begin their journey with you.
Use & Engagement: Focuses on how customers use your product and engage with your business on an ongoing basis.
Fix & Maintain: Focuses on the ongoing support and maintenance of not only the product or service you provide, but also your relationship with them.
Buy Again, Refer, or Exit: Focuses on the moments where your customer decides whether to continue, expand, or end their relationship with your company.
Choose a Persona
When mapping a customer journey, it's also important that you limit your focus to one customer persona. Each persona will experience different touchpoints with your company in different ways, so it's important that you map the same journey for each customer persona to understand these nuances (e.g. a new grad entering the workforce might purchase online vs. a career professional might purchase in-store or through a sales rep).
Once you've identified the journey you'd like to map and which persona you'll be mapping the journey for, you also need to identify and understand the specific outcome your customer is pursuing during that journey.
We call this an 'opportunity statement'. The statement needs to be specific to drive focus, but also be simple enough to be easily understandable by all stakeholders. You can identify this statement by asking yourself: What is the customer trying to do (e.g. buy a product, fix an issue)? ; and, what do they want to achieve (e.g. feel appreciated, look cool)? Write this statement down and keep it handy as you start to map your customer's journey.
Create your Journey Map
After identifying your journey, persona, and opportunity / problem, you can start the detailed mapping of your customer journey.
Step 1: Identify the High-Level Phases of the Journey
List the key phases your customer will go through (from their perspective) to achieve their desired outcome.
Step 2: Consider your Customer's Perspective
Put yourself in your customer's shoes (use your persona and empathy map to help guide your thinking) and map the following:
Customer Goals: for each phase, identify the key goals and desired outcomes for the customer. Remember, the customer's goal will be different than the activity they are performing (e.g. activity is calling customer support, but goal is to cancel service).
Customer Activities: capture the activities being completed by the customer in that phase (even if they aren't customers of your company yet).
Customer Thinking: capture the customer's thoughts as they complete each of these activities.
Step 3: Consider your Company's Perspective
Look at the journey from an internal point of view and map the following:
Touchpoints: identify the points of engagement between the customer and company, including the different channels they use.
Organizational Activities: identify the activities you are completing internally when the customer passes through this phase of the journey.
Step 4: Understand your Customer's Feelings
Review everything you have mapped and capture how your customers will be feeling through each phase of their journey. Consider all elements of the customer journey you've defined so far as context for this emotional state.
Step 5: Identify the Moments that Matter
After mapping a customer's journey with your company, it's possible to determine which moments truly matter to them during that journey. These are the points in time where delighting them will have the greatest impact. They can also be the moments that might make them leave if you do not handle them well.
But how do you identify these moments? A good first step is looking for the points in their journey that trigger the strongest emotional responses. Many of these moments are tied to the customer achieving their goals or objectives. They aren't always exact moment the need has been met, but they can usually be found nearby in the journey map (e.g. signing paperwork to buy a vehicle seals the deal but handing over the keys and driving it off the lot are the emotional moments). These moments can also be points of frustration or disappointment for your customer where they encounter barriers or setbacks on their path to achieving their desired outcome.
Identifying these moments allows you to curate an experience that not only helps your customers achieve what they have set out to do, but also creates moments of pure delight to create a lasting, emotional connection. That emotional connection is a genuine one – and its impact comes from being grounded in truly caring about the customer.
5. Build, Test, Iterate, Repeat
Gather the Right Stakeholders
Once you've mapped your customer's journey, you can start coming up with CX solutions and initiatives that will help improve their overall experience. Similar to your persona and journey mapping exercises, you should involve a cross-functional team of internal resources to help you get a balanced perspective (ideally the same group who built your personas and journey maps).
You should also involve your customers directly in the CX ideation and iteration process by using focus groups and consultations to collect their feedback and perspectives. Waiting until after an initiative goes live to collect customer feedback is a recipe for disaster. If you don't involve real customers in the development of a CX solution, you won't know what went wrong or how it could have been avoided.
Involving customers in the solutioning process will help you test your assumptions and build better, more relevant experiences. You should also run multiple tests with your different personas over time to create an experience that works well for all of them. Personas have different needs and their needs may change over time, so a multi-pronged approach to testing will help you iterate and improve over time.
Start with Pain Points & Opportunities
The easiest place to start your CX solutioning process is by looking at each of the moments that matter to your customer, both positive and negative. Take time to consider what you could do to make any moments of triumph even better for them. Ask yourself, what would make this experience even more special for the customer? How can you show them that you are as excited as they are about meeting their goal?
For the pain points you've identified, consider how you can reduce friction to make these moments less painful for your customers. Ask yourself, why is this experience so frustrating or annoying for this customer? And what can you do to make it a little bit easier for them? Or, how can you make it up to them if the pain is unavoidable?
The answers to these questions are your customer experience opportunities – the areas for improvement that will guide and provide inspiration for future CX, activities, initiatives, and programs. Knowing where you are completely missing the mark for a customer and the areas where you are already making your customers happy will help you ideate, test, measure, and replicate your CX successes and create a truly excellent experience for your customers.
Prioritize your Opportunities
After you've identified your CX opportunities at the highest level, it's crucial that you do a prioritization exercise. Budget limitations aside, if you try to solve every customer problem or elevate every experience simultaneously, you won't be able to give each opportunity the time and attention it deserves. It will also make it impossible to evaluate and attribute positive or negative results to a particular initiative.
Place each of the opportunities that you have prioritized into a quadrant in the matrix below; based on the value they will provide to your business and the level of effort or cost required.
CX Opportunity Prioritization Matrix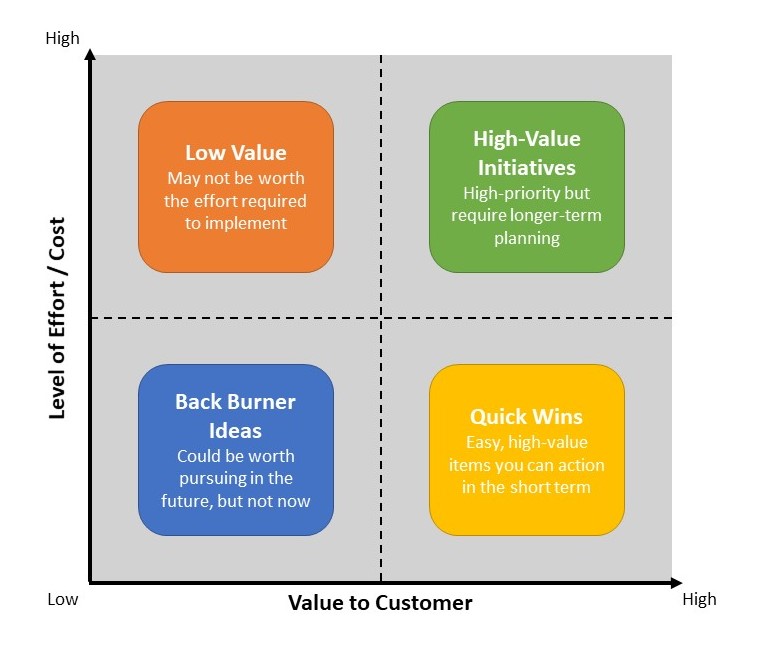 The two quadrants to pay attention to are the "Quick Wins" and "High-Value Initiatives" – start with these ideas to provide the most value to your customer.
Within these quadrants, select an initiative you want to tackle and complete the following steps:
Select initiative
Co-create a solution with your team and customers
Test the solution
Collect feedback and customer data
Iterate and improve the experience
Repeat
All CX design and solutioning activities should follow this same process, no matter how big or how small the initiative may be. The more times you go through this cycle, the smoother it will go and more effective your solutions will be.
Collecting and actioning feedback is key – if you receive feedback that you haven't improved the experience or fixed a problem, it's a sign that you may not fully understand your persona or their desired outcome. You need to dig into these misses with your customers to understand why something did or didn't work and how you can improve future iterations.
Final Tips for Improving Customer Experience
This post included a lot of information about the many pieces of the customer experience puzzle. If we had to distill all of our advice down to our top 5 tips for CX, they would be:
Actually Give a Sh*t – customer experience work isn't an area where "fake it until you make it" will help you get results. If you don't actually care about your customers and have a genuine, deeply- held desire to make things better for them, your CX efforts will fall flat.
Listen, listen, and listen some more – a multi-faceted approach to soliciting and collecting feedback from your customers and employees is key to the development of a great customer experience strategy and impactful initiatives.
Involve and empower your entire team – a broad, inclusive approach to designing and implement your customer experience program will not only make your job easier as a leader, but also set your business up to achieve and maintain your CX goals. Empowering and supporting your team will go a long way in building a culture of customer experience excellence in your organization.
Resource CX work appropriately – customer experience work isn't something you can do off the side of your desk. To build and sustain a great experience you need to invest in its success. Allocate money, time, and resources to these initiatives, use customer input and data to design your programs, and hold your leaders and their teams accountable for their performance.
Measure and report on CX – developing simple, clear metrics for your customer experience efforts will let you know if you are making any progress. Report on your results quarterly, just like you would for your financial performance, and communicate the results to your entire team to create a shared sense of accountability and reinforce the importance of customer experience for your business.
In Closing: You have to start somewhere
Improving your customer experience might seem like a monumental task, but all it takes to get going is a few steps in the right direction.
Start small and keep building up your customer experience capabilities and initiatives over time. You might not get things right the first, second, or even third, and that's okay. What's important is that you're trying to improve the lives of your customers and every improvement, no matter how simple.
Great CX will look different for everyone – don't worry about comparing yourself to others. Just choose the path that works best for you and your customers and start building some kickass experiences.
Give it a Try!
Ready to try it out for yourself? Work through some of these exercises with your team and let us know how it goes by contacting xlab@stackdconsulting.com.
Visit stackdxlab.com for more information about the newest Customer Experience accelerator.