Ugh… are we done yet?
I'm ready to kick 2020 in the ass and move upwards and onwards to 2021. As I start to think about 2021, I'm fairly certain that I've never been so uncertain about what the future holds. Will my family be safe and healthy? Will vaccines work effectively? Will our clients survive and thrive in 2021? Will the economy come back? Can we go back to normal? Or, do we have to accept that there is only a new normal no matter what scenario unfolds? So what can we take from 2020?
While I really have no clue of what the future holds, I do know that you can always learn from the past and I think there were a lot of positive learnings we as business leaders can take from 2020.
If this year has taught us anything, it's that change is inevitable; how quickly the world has managed to shift completely, and then over and over again! It feels like we have gone through 10 years of innovation in the past 9 months. I'm sure most of you have seen the various cartoons stating something like "What drove your digital transformation? (a) Your CEO; (b) Consultants; (c) COVID-19." So, I guess it isn't all bad, all of the pivoting, rebooting, redesign, invention, and reframing has given us a unique perspective. In the words of Chip & Dan Health:  "The promise of stretching is not success, it's learning".
And, we have all stretched a lot this past year. So, myself and a few colleagues at Stack'd got around the proverbial 'Microsoft Teams Table' and came up with a list of some key learnings from 2020 that we think will not only help some survive, but more importantly can help a lot of us grow and thrive.
Key Learnings from 2020
There were so many different things we could take from 2020 (both positive and negative) when we reflected on the experiences and learnings from our 'business bubbles'. We identified four themes that stood out as real contenders as areas of considerable learning and that will have lasting impact and create opportunity for most businesses in 2021.
Our four themes:
Customer loyalty is fleeting and up for grabs.
Instilling the discipline of agility.
Making working from home (WFH) work.
Cultivating community to survive, thrive, and grow.
For each theme, we have articulated a few questions for you and your team to consider as you plan for 2021 that hopefully gets the 'gerbil wheel' grinding a bit and some tangible actions you could take to apply these learnings to your company.
Customer Loyalty is Fleeting and Up for Grabs
The pandemic has changed what customers value and how they are behaving in the marketplace. New themes such as safety, convenience, comfort, and buy local are becoming increasingly more important in what customers value and expect. As these customer behaviors shifted, so did their customer loyalty to brands and how they interacted with those companies in comparison to how they behaved pre-pandemic. Based on a study by McKinsey, 75% of consumers have tried a new shopping behavior since Covid-19 started (e.g. new shopping method such as online, a new brand, etc.) and intend to beyond the pandemic. Interestingly this is also creating new opportunities for business to grow and for brand loyalty to be re-crafted. Those that were on top may not be in the future as others pay more attention to what customers need today and anticipate what they will want in the future.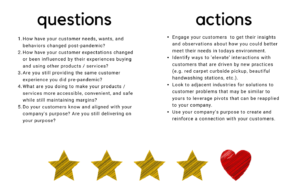 Instilling the Discipline of Agility
"We pivoted" – isn't that one of the most overused phrases of 2020? However, it was necessary, as change has come to define the past year and it will likely define the next one too. Leaders quickly learned how to adapt, listen, experiment, and innovate to survive market disruptions and take advantage of newfound opportunities because of the pandemic. However, many leaders we have spoken to are exhausted from 'pivoting' from one surprise to the next.
But it doesn't have to be this way.
Organizations can build the skills, processes, culture, and discipline to instill 'agility' (i.e. the ability to pivot) as a core capability. Agile organizations are designed to adapt to change, be fast, to test, to learn, and relentlessly focus on delivering value to their customers in incremental ways.
Geared toward continuous improvement and a focus on value creation, operating with agility can greatly increase business success and keep teams motivated and engaged as they pivot through challenging times.  Moreover, by infusing a strong understanding of your customers and their desires and motivations into your versioning, solutioning, and testing you build experiential solutions that transcend a changing world as you are navigating through it.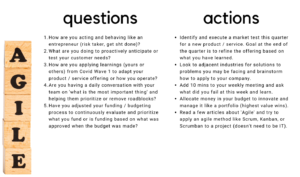 Making Working from Home (WFH) Work
The pandemic has thrown us into a largely virtual world. This movement to WFH has driven digital transformation and most feel like it is here to stay. This transition is changing the employer-employee relationship and is forcing leaders to review what good business practice looks like in a virtual world.
There is a true divide on if WFH is valuable to the companies and the practices to follow to allow this activity to occur post-pandemic. Many of the questions relate to lost productivity, the need for human connection, team performance, and trust. However, some of the immediate benefits include:
Employers are now able to round out the composition of their staff beyond those that are onsite, hiring people from different socioeconomic, geographic, and cultural backgrounds with different perspectives. This opportunity has afforded improvement to the diversity of the talent on your team through inclusivity and deepening the talent pool.
Companies can challenge how much office space they require and rethink how it is used to support day-to-day operations.
That said, the business environment has been fractured in how we are connecting with each other; those with existing relationships and those new to the team are both struggling with building and maintaining virtual networks and relationships. There is a breakdown of the formal and informal interactions that we have all experienced in an office environment and we are struggling to figure out how to recreate them. Communication often resorts to snap responses and sound bites; words and tone via chat or text can be misconstrued.
It is our belief that WFH can work, but it requires challenging the artificial boundaries we have put around the virtual world (e.g. every video conference requires a scheduled meeting) and being deliberate about the practices the team follows. The norms and practices of how to behave and interact are defined in an office setting and you must do the same in the virtual world. Organizations like GitLab started with a 100% of staff working remotely and are very deliberate in their practices. Leaders should review what GitLab and other organizations that have been successful from WFH and pick the best practices that can be applied to their organizations.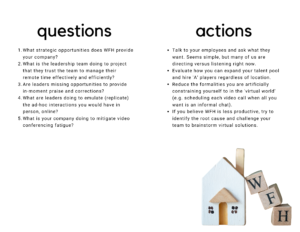 Cultivating Community to Survive, Thrive, and Grow
Before the pandemic, organizational boundaries were becoming more and more blurred as companies started to rely more on a broader ecosystem (e.g. Partners, Gig Economy) to operate and create value for their customers. In addition, as we become more of a networked economy, business leaders focused on building their 'tribe' of mentors, trusted confidents, and friends to help grow and support their business.
When the pandemic struck, those networks were tested by many leaders as they looked for ways to survive, grow, and 'pivot' (told you the word is overused). This was an unprecedented change and having the ability to reach out and ask for help whether it was for advice, or favorable terms, was the difference for many organizations. Many leaders who weren't facing the same hardships also felt an obligation to support their networks and communities by providing advice, making introductions, or directing their resources to companies that needed it. For example, Local Laundry has grown their business during the pandemic as companies supported them because they wanted to buy local and support Canadian made.
Let's champion these behaviors and habits to ask for help, build your tribe, and support the community throughout 2021, as it will help us all grow and thrive.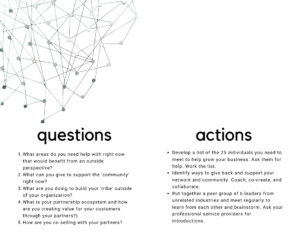 Closing Thoughts
Closing the books on this challenging year can't come soon enough but, at the same time, in a year of disruption like we've had, the learnings that have been afforded are astounding.  Our business purpose, processes, and people have all been traumatized and shaken to their fundamental foundations.  Yet, there is the opportunity to re-think, re-design, and re-imagine the services and the customers that we serve.  Like other challenges, going forward will be a struggle – one that we have proved that we have the grit and fortitude to go through. Companies will continue to be more innovative, find solutions to meet customer needs, and delight their customers and employees.
On the softer side, we have experienced some collective wins:
The forced intimacy of our predominately virtual world has created a window that otherwise would not have been exposed. We now see our most senior leaders sitting at their dining room tables with family members popping into view juggling unpredictable household distractions. And with these observations and exchanges, facades are exposed, and comradery evolves.  The closeness of leaders to their teams has not be achieved by proximity, rather, these personal relationships have evolved through being in each other's homes.
Many businesses have stretched themselves into markets they wouldn't have imagined, producing products that they never dreamed would be in their wheelhouse, stood up new delivery methods, explored new technologies, and have done so in record time. Now they have a blogger on staff, a manager of logistics, and are closer to their customer than ever before.
A lot has been written on how to set boundaries around shared workspace with spouses, partners and adult children and the strain faced with work styles that are opposing. All true.  However, by virtue of proximity to something that you would have never sought out, circumstance has afforded exposure to other industries, best practices, and an opportunity to learn.  His all-staff becomes your podcast.  Her collaborative digital whiteboard inspires a new tool in his next video interaction.
If a group of people develop a bond quickly, chances are its members have been struggling together. 2020 sure has been a collective hustle – any shadows of organizational hierarchy have been upended by the shared purpose of survival. We have begun to evaluate our actions and reactions through a lens of kindness and a greater level of collective patience has emerged.
Plot twist: 2020 has actually been the best year of your life.  You've faced challenge after challenge, you've adapted, and you've overcome.
2020 has forced you to grow exponentially.  Don't take that for granted.
In the words of Anonymous: "Not all storms come to disrupt your life, some come to clear your path."